Full Mouth Reconstruction
Full Mouth Reconstruction in Durango, CO
Full mouth reconstruction is a great option for patients who suffer from significant tooth loss due to injury, decay, or periodontal and gum disease. This procedure can improve your oral health and overall appearance.
What is a Full Mouth Reconstruction?
A full mouth reconstruction involves rebuilding the bone structure of the teeth, jaw, gums, and surrounding tissue after tooth loss. We do this procedure on patients who are missing multiple teeth or have advanced periodontal disease that will require extensive treatment.
Our goal with this procedure is to restore the function and appearance of your smile by replacing your lost teeth with implants, crowns, bridges, veneers, or dentures. We will also address any existing issues that may be causing your dental issues.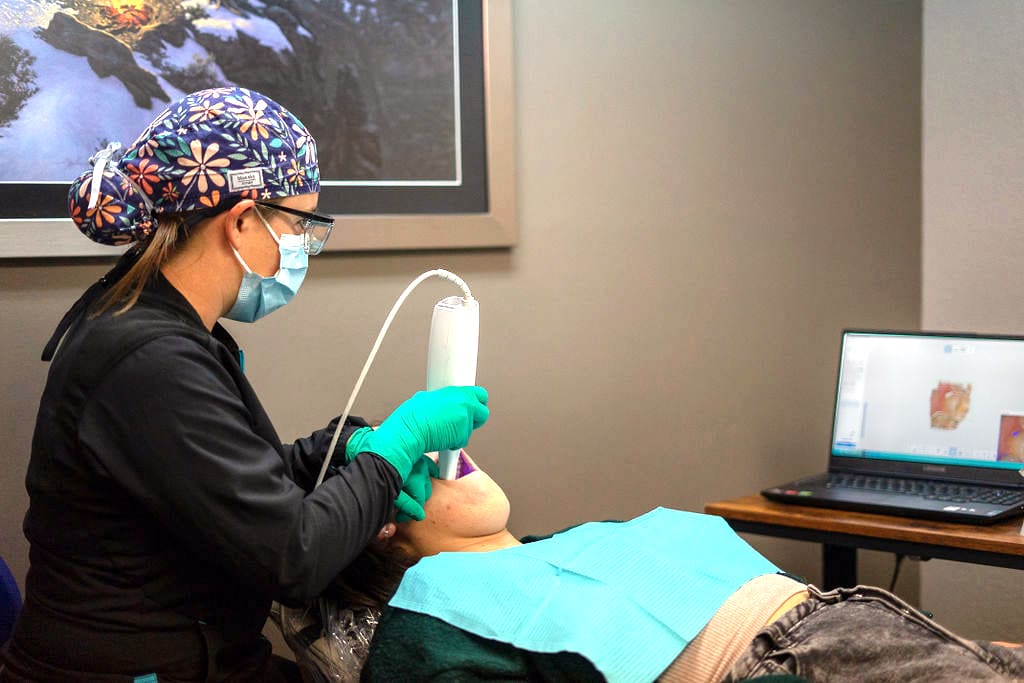 These are some common dental problems that would make you a good candidate for full mouth reconstruction:




Cracked teeth or fractured teeth

Worn down teeth due to grinding



Restorative Dentistry Treatments Used
Implant restorations are used when there is not enough healthy bone left to support a natural tooth root. They are placed into the jawbone, where they fuse with the bone over time. Your new implant acts just like a real tooth root and allows you to eat and speak normally.
Dentures are a tooth replacement treatment used to restore the appearance and function of missing teeth. They are artificial replacement teeth that are custom-made to look and function like your natural teeth. With dentures, you will be able to eat and speak normally.
TMJ Therapy is a dental treatment used when there is an alignment issue caused by the TMJ joint and can cause pain and discomfort in the joint. Therapy can help correct a bite, reduce jaw pain, and improve your mouth's overall functionality and oral health.
Cosmetic treatments are often used in full mouth restorations to further enhance your smile and give it a more youthful appearance. These procedures can include:
Teeth Whitening

Tooth-Colored Dental Fillings

Porcelain Veneers

Porcelain Dental Crowns
Full Mouth Reconstruction FAQs
Most major dental insurance providers offer some sort of coverage for full mouth reconstructions. The amount of coverage will vary depending on your plan. We recommend contacting your provider to confirm what your plan includes.
If your insurance provider doesn't cover your treatment, we offer a variety of payment options to help make treatment affordable. These include CareCredit, Lending Club, and Wells Fargo Healthcare.
Not always. A lot of dental procedures used for reconstruction involve only minor surgical procedures. Dental implants will be one of the only procedures that require full sedation and oral surgery.
Reconstruction offers many health benefits
Improved self-esteem and confidence

Reduced risk of future complications

Overall improved oral health

Increased ability to chew food properly

Improved speech
Contact Us for Dental Restorations
Full mouth reconstruction can give you a healthy and beautiful smile and restore your oral health. These restorations can provide patients with many benefits, and our team is ready to create a custom treatment plan tailored to your needs.
Contact our dental office today if you have any questions regarding full mouth reconstruction. We will be happy to answer all of your questions and get your oral health on the right track.