Your dental implants are an essential part of your smile. They are designed as a permanent solution to last a lifetime, but proper maintenance is critical to protect their durability and your oral health. Optimal oral hygiene is a key factor in the success of your implants.
West Dental Implants and Prosthetics is dedicated to providing you with the best implant experience possible. That means our care for you doesn't end immediately after your implant surgery. We will also teach you about implant maintenance so you can protect your investment for decades to come.
How to Brush Your Dental Implants
Regular brushing is an essential part of implant maintenance. Brushing the same way you brush your natural teeth helps prevent plaque buildup and reduces inflammation. Use a soft-bristled brush, so you don't scratch the smooth surfaces of your restoration. If possible, invest in an electric toothbrush since it removes more biofilm than a manual toothbrush. Avoid using abrasives, such as baking soda, because they can damage the implant surfaces. Rough surfaces are more likely to harbor bacteria.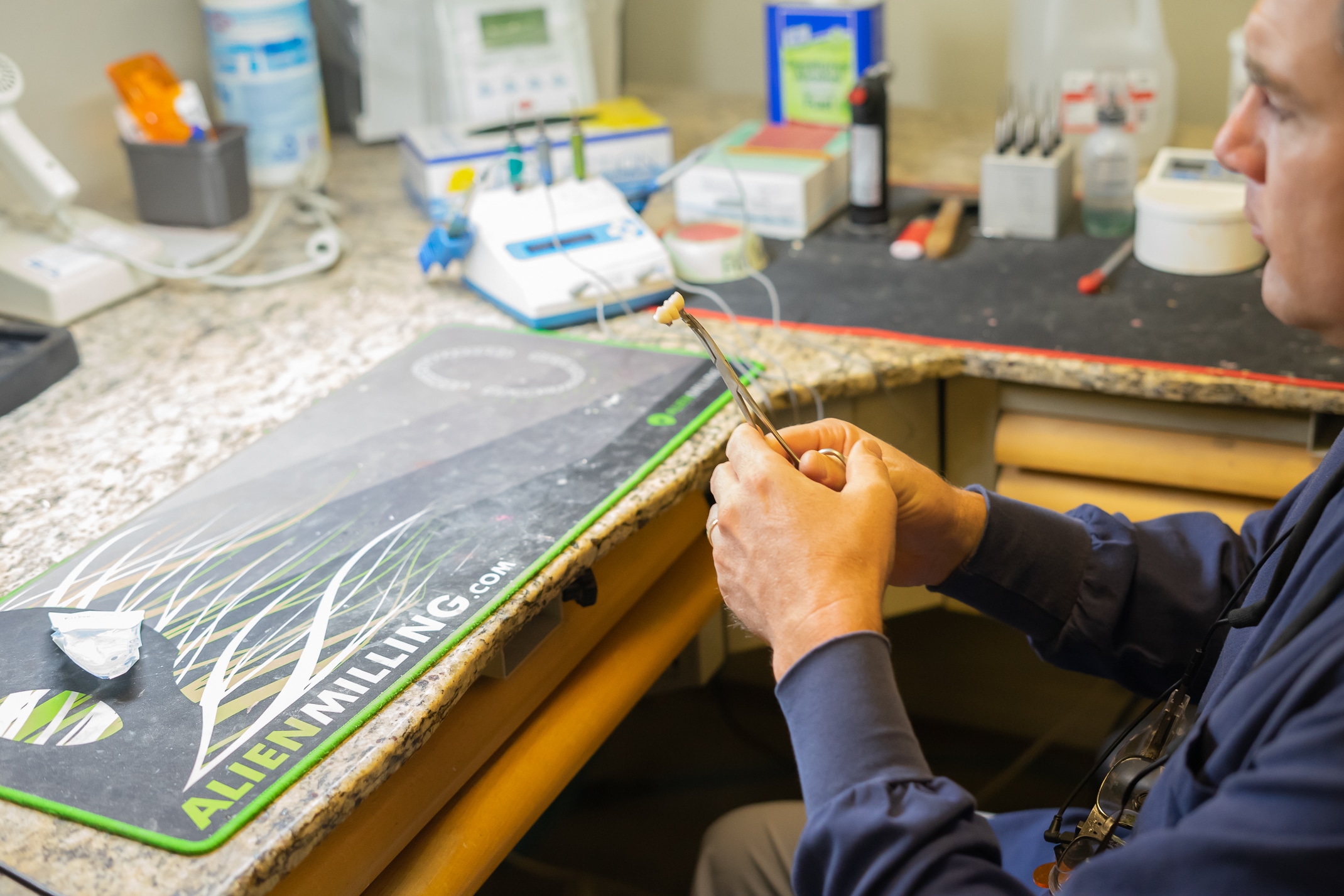 Daily flossing is an important part of any oral hygiene routine. It's also one of the most commonly overlooked oral hygiene habits. You can use traditional floss or oral hygiene aids, such as floss holders, to help work the floss around the tooth.
Once the dental floss is in position, wrap it in a "C" shape against the side of the crown and implant, gently rubbing up and down its side multiple times. Then, lift the floss and move to the next tooth. With flossing, the goal is to clean where teeth meet implants and just under your gum line. In these "pocket" areas around your gum tissue, biofilm is more likely to collect, so removal of that bacteria is essential.
Some patients use an instrument called an inter-dental brush (also called an interproximal brush) with bristles on both ends. This tool allows you to reach between teeth and into those hard-to-reach spaces. Regardless of your flossing method, it is critical to include flossing in your daily care routine.
Cleaning Around an Implant Crown vs. Bridge
Cleaning around a single implant crown is pretty simple. It's very similar to brushing and flossing a natural tooth. For dental bridges or other restorations for multiple teeth, you'll want to use a floss threader and/or water flosser. This will allow you to reach the side of an implant that faces the middle of the restoration, so you can easily clean around the whole thing. To do so, slide the floss threader beneath, run the strand back-and-forth under the bridge, and gently massage each supporting implant's sides. Alternatively, you could also use an interdental brush. Or, if you prefer a water flosser, use the water spray feature to wash away debris along your gum line, bridge, and supports.
The Importance of Dental Visits
Dental implants don't get cavities like regular teeth, but they can still develop complications. The tissue around implants also needs attention to ensure implant health. Regular hygiene visits are essential, and not just for professional dental cleaning. Routine checkups will also monitor your risk factors for peri-implant diseases and help prevent them. In addition, it allows dental professionals to monitor the long-term success of your implants to ensure the tooth root is still properly rooted in the bone.
It is always better for your smile and gentler on your wallet to prevent issues before they begin as you protect your new smile.
We care about helping you keep your implants healthy, so they last for decades, and we are happy to answer any questions you have. We encourage you to call our office if you have questions about dental implant care.
We are here for you! Call us at (970) 259-5600.