Porcelain Veneers in Durango, CO
West Dental Implants offers porcelain veneers to our patients in Durango, CO. They are one of our most popular cosmetic dental procedures and are a great way to transform your smile and the appearance of teeth. Our cosmetic dentist will work with you to put together a treatment plan that meets your needs.
Benefits of Dental Veneers
Porcelain veneers are an ideal choice for people who want to improve the overall look of their teeth. They are thin shells of porcelain that are adhered to the fronts of the teeth. They can be used to treat damaged teeth and correct a variety of dental issues, including broken teeth, crooked teeth, misshapen teeth, and stained teeth.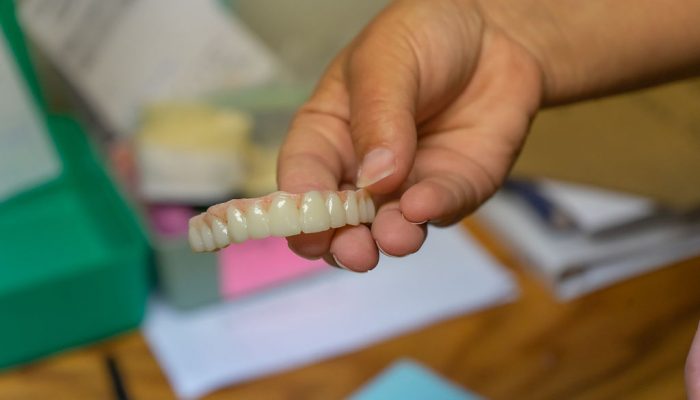 There are several benefits of porcelain veneers
Porcelain vs. Composite Veneers
When it comes to dental veneers, there are two main types: porcelain and composite.
Porcelain veneers are created using a thin layer of porcelain that is bonded to the front of the teeth. Composite veneers are created using a composite resin material that is also bonded to the front of the teeth. Both types of veneers can be used to improve the appearance of the teeth, but there are some key differences between them.
Porcelain veneers are very durable and natural-looking and are stain-resistant. They tend to last at least 10-15 years and cost anywhere from $925 to $2,500 per tooth. Composite veneers are not as durable as porcelain and are more susceptible to staining. On average, they last patients 5-7 years and cost anywhere from $400 – $1500 per tooth. Porcelain veneers are typically considered the better choice overall and should be looked at as a long-term investment for your dental health and smile.
The cost of porcelain veneers varies depending on the number of teeth being treated and your overall oral health. On average, each veneer can range from $925 to $2,500.
Porcelain veneers are a very durable treatment option and can last for many years with the right care. Many patients can see their veneers last upwards of 20-30 years.
Yes, you can pair veneers with a whitening treatment. Since porcelain veneers are stain-resistant, they will not discolor over time. If you have existing stains on your natural tooth surface, you may want to have them professionally whitened before getting veneers so they blend seamlessly.
Contact Us for Cosmetic Dentistry
If you are interested in porcelain veneers or any other cosmetic dental services, please call our office to schedule a consultation. Our team will be happy to answer any questions and create a plan to help you achieve an attractive smile that you will be proud of.
Give us a call today to get started on your treatment plan.