At West Dental, we are happy to offer the latest in dental technology to our patients. Our state-of-the-art equipment allows us to provide the highest quality of care for our patients. With our dental technology, we are able to detect dental problems earlier, which can save patients time and money in the long run.
The Importance of Advanced Technology for Dental Care
Dental technology has come a long way in recent years, and it plays an important role in dental care. There are now more options available to patients looking to improve their smiles.
In the past, dental procedures were often painful and invasive, and recovery could take weeks or even months. Now, thanks to advances in dental technology, many procedures are quick and painless, and recovery times have been significantly reduced.
These technological advances in dental technologies can often make treatment more effective and less invasive as well as more comfortable and convenient than ever before. It has also made it possible to diagnose and treat dental problems more accurately and effectively. Thanks to dental technology, we can enjoy healthy, beautiful smiles for a lifetime.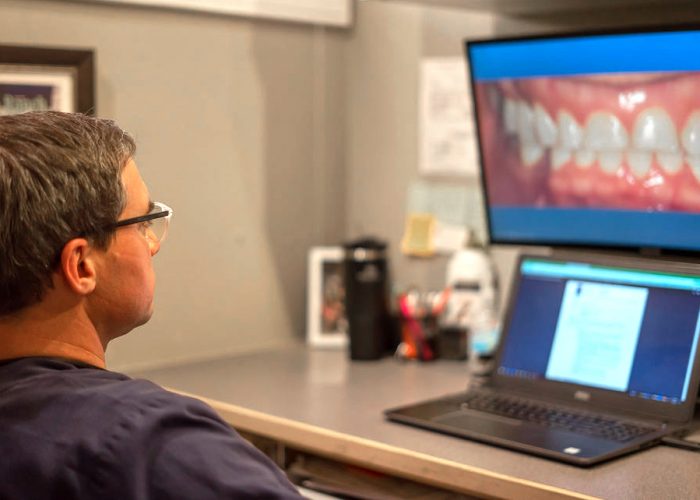 Technology We Offer at Our Dental Practice

Dental implants are great dental restorations for patients who are missing one or more teeth due to periodontal disease and tooth loss. An implant is placed in your jawbone, and a replacement tooth is then attached to the implant. The implant will look and function just like your natural teeth. We offer two types of dental implants to our patients.

3-D dental imaging is a technology that uses a CT scanner to create 3-dimensional detailed images of teeth and jawbones. This type of imaging allows us to get a detailed look at the structure of your teeth and jaws, which can be helpful in diagnosis and treatment planning. 3-D images can also be used to create custom dental prosthetics, such as implants and dentures. 3-D dental imaging offers many benefits over traditional 2-dimensional x-rays. They provide more accurate images, making it easier to spot problems such as tooth decay or cavities and plan treatment.

All-on-4® dental implants are a type of implant that we use to support a full set of dentures. The implants are placed in your jawbone and act as your new tooth root. Once the implants are placed, they will fuse to the bone over time and will be used to support a full set of dentures. They are a great option for people who have lost all of their natural teeth and are looking for less invasive treatment options than full-mouth dental implants.

Implant-Supported Dentures
Implant-supported dentures are a type of dental prosthetic that is supported by implants. Unlike traditional dentures that rest on the gums, implant-supported dentures are anchored in place by titanium screws that are surgically placed into the jawbone. This provides a much more secure fit and can help to preserve the bone structure of the jaw, preventing further deterioration. Implant-supported dentures are an excellent solution for people who have lost all of their natural teeth and are looking for a long-term solution.

Digital x-rays are one of the newest advancements in dental technology. Instead of using traditional x-rays, digital x-rays use a digital sensor to capture an image of the teeth and bones. The digital sensor is a lot more sensitive than film, so it requires less radiation exposure. Also, the images taken by the x-ray can be viewed instantly on our computer screen, which lets us get an accurate picture of the teeth and identify any dental conditions immediately. Digital x-rays provide a safer and more efficient way to get high-quality dental images for our patients.

We offer IV sedation for our patients who need a sedative option during their dental procedure. IV sedation offers patients a safe and effective way to relax and feel at ease during treatment. The sedative is given through a small IV that is placed in the arm, and it works quickly to help our patients feel calm and relaxed. IV sedation can be especially helpful for patients who have dental anxiety or who need to have an extensive treatment done.
Contact Us for Your Oral Health Care Needs
Our dental team is experienced in the latest dental technology. We use cutting-edge tools and techniques to improve your oral health. If you are interested in learning more about our technology or want to schedule a consultation, please do not hesitate to contact us today. We would be happy to answer any of your questions and help you take the first step towards better oral health.