Cosmetic Dentist in Durango, CO
At West Dental Implants, we offer a wide range of cosmetic procedures to meet the needs of all of our dental patients. Whether you are looking to get whiter teeth, straighten your smile, or replace missing teeth, we have the experience and expertise to help you achieve the smile of your dreams.
Our experienced and professional staff will work with you to find the best solution for your smile.
Benefits of Cosmetic Treatment
Cosmetic dental care covers a variety of procedures that aim to improve the appearance of your teeth and treat various dental problems. While cosmetic treatment is not typically considered essential, it does have several benefits
It can help to boost your self-esteem. Cosmetic dental care can help you to have more confidence in your appearance, making it easier to socialize and interact with others.

Cosmetic treatment can help to improve the function of your teeth, making it easier to eat and speak.

Treatment can help to protect your teeth from further damage and improve your oral health. If your teeth are not properly aligned, they may be more susceptible to wear and tear.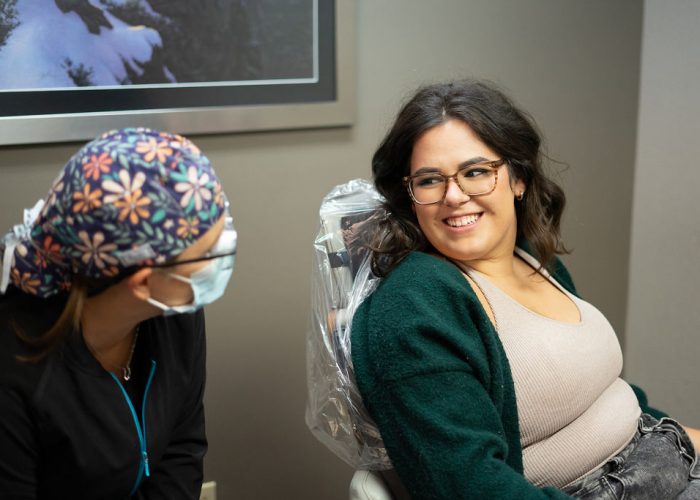 Cosmetic Dentistry Treatments We Offer
This type of filling is made of a durable composite resin material that is matched to the color of your teeth. Tooth-colored fillings not only improve the appearance of your smile, but they are also strong and long-lasting. They can be used to restore chipped, cracked, or worn teeth.
Porcelain veneers are one of the most popular cosmetic dentistry services we offer at our practice. Dental veneers are thin, custom-made shells that are adhered to the fronts of your teeth. They can be used to improve the appearance of your smile in a number of ways, including making your teeth look longer, correcting misshapen teeth, and hiding discolored teeth.
They are highly resistant to staining, so they can help you maintain a bright white, healthy smile for years to come.
Dental bonding can be used to make repairs to your teeth for a number of different dental concerns, including cracked or chipped teeth, gaps between teeth, and crooked teeth. The procedure involves using a tooth-colored resin to bond the affected tooth or teeth. The resin is color-matched to your teeth, so it will blend in seamlessly with your smile.
It is a quick and easy process that can be done in just one visit to our office.
Porcelain crowns are also known as tooth-colored crowns or ceramic crowns. They are used to restore the function and appearance of a damaged tooth. Porcelain crowns are made from high-quality materials that match the color, translucency, and shade of your natural teeth. Porcelain crowns are strong and durable, and they can last for a long time with the right care.
They are stain resistant, so they will continue to look natural and beautiful for many years.
Teeth whitening is a popular noninvasive cosmetic treatment that can dramatically improve the appearance of your entire smile. Over time, your teeth can get stained and discolored from a variety of things, such as smoking, drinking coffee or tea, and eating staining foods. A professional whitening treatment can help to remove these stains and restore your teeth to their natural whiteness. Our in-office treatment uses a powerful bleaching agent that can achieve results in just one visit, giving you a bright smile.
The cost of cosmetic treatment will vary depending on the specific procedure or procedures you are interested in. Simple treatments, like teeth whitening, are less expensive, starting at $500, while more involved treatments, like porcelain veneers, start at $900 per tooth.
Dental insurance typically will not cover cosmetic procedures. However, some dental plans may offer a discount on certain cosmetic treatments. We recommend talking with your insurance provider to confirm what your coverage includes.
Cosmetic treatment is an option for anyone who wants to improve the appearance of their smile. Whether you are interested in changing the color, shape, or alignment of your teeth, we can help.
Schedule an Appointment with Our Office
To learn more about our cosmetic dentistry services or to schedule a consultation, please contact our office in Durango, CO, today. We would be happy to answer any questions you may have and help you with your dental needs.
We look forward to helping you achieve the healthy, beautiful smile you deserve!